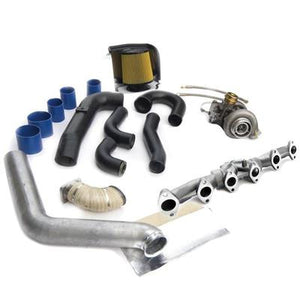 94-98 Dodge 5.9L Cummins (Requires Super B Single) BD-Power 1045315 Super B Twin Turbo Upgrade Kit
The BD-Power 1045315 Super B Twin Turbo Upgrade Kit for your 1994-1998 Dodge 5.9L Cummins allows you to convert your Super B Single turbocharger into the BD-Power Tow Twins. Designed for the Dodge truck owner who has their 5.9L diesel pushing between 425hp-575hp and yet wants to use their pick-up for daily driving, full-time RV'ing, weekend adventures or a little fun on the track, plus, keep the EGT's low and economy high.

The Super B Twin uses a large Borg Warner Air Werks turbo as the primary which feeds the Super B Single we use as the secondary, compounding the air flow to deliver up to and beyond 60psi of superior boost pressure.

Features
Rated for 350-575HP


Tow Twins Flow 1190CFM

This kit contains everything to convert Super B to Tow Twins

All plumbing and hardware oil drains and return lines
Note: This Upgrade Kit only includes 1 turbocharger and will convert your current setup into the "Towing Twins". YOU MUST already have a Super B Single Turbocharger to complete this system. If you do not have a Super B Single already, see below for complete kit. Exhaust Manifold not included.