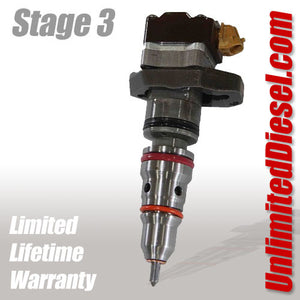 1994-2003 7.3L Powerstroke Fuel Injectors - Stage 3 by Unlimited Diesel
These are the ultimate towing/street/strip Powerstroke fuel injectors with 238cc and either 80% or 100% Nozzles! These injectors are capable of 500 RWHP, but can also be detuned to tow heavy loads with EGT's less than 1250*F sustained! This is a great choice for someone who has installed an upgraded turbo. Even with the size of these diesel fuel injectors, dual high pressure oil pumps are still not a requirement with proper tuning. Head studs are recommended if you are planning on running over 40 psi of boost. Fuel pressure should be checked also to ensure at least 60 psi. Custom tuning required for optimal performance.
*Sold as a set of 8
Under no circumstances will any injector cores be accepted that are shipped via United States Postal Service. There is a $50 per day late fee for cores returned after 21 days. Cores must be injectors that are in good physical condition, are rust free, and have not been burned or externally damaged. Cores that have been subjected to any alternative or "Bio" fuels will not be accepted as good cores. Any injector received that is disassembled or missing parts will not be accepted as a good core. There is a $50.00 charge per damaged solenoid. Cores should be returned in original packaging to avoid damage.