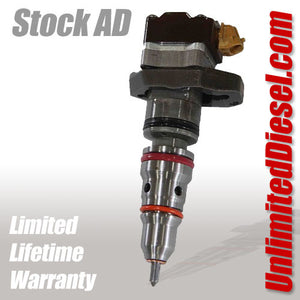 1999.5-2003 Trucks Built After 12 07 1998 7.3L Powerstroke Fuel Injectors - Stock AD by Unlimited Diesel
Fully remanufactured Powerstroke fuel injectors with better than OEM specifications and tolerances for longer life.
*Sold as a set of 8
Under no circumstances will any injector cores be accepted that are shipped via United States Postal Service. There is a $50 per day late fee for cores returned after 21 days. Cores must be injectors that are in good physical condition, are rust free, and have not been burned or externally damaged. Cores that have been subjected to any alternative or "Bio" fuels will not be accepted as good cores. Any injector received that is disassembled or missing parts will not be accepted as a good core. There is a $50.00 charge per damaged solenoid. Cores should be returned in original packaging to avoid damage.