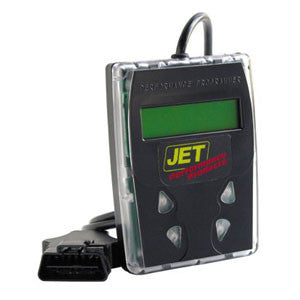 2001-2005 GM 6.6L Duramax LB7 & LLY JET GM Performance Programmer 15023
The JET Performance Programmer lets you take control and program your own vehicle computer to match your driving style. JET's exclusive Tri-Power tuning allows you to program for performance using lower cost regular octane fuel, or for optimal performance gains you can program for midgrade or premium fuels. All three tuning modes are designed to operate the engine at peak efficiency based on the octane level being used to improve horsepower and mileage. The advanced technology and design of the JET Programmer gives you the ability to modify air and fuel ratios, ignition timing, shift points, shift firmness, speed limiter and rev limiter settings. The programmer will also correct your speedometer and turn off the ABS system trouble light if you change tire size or gear ratios. Also includes a built in scan tool to read and clear diagnostic trouble codes when your check engine light comes on saving you a costly trip to the dealer. The programmer simply plugs into the vehicle's diagnostic port under the dash and then the easy to use installation software allows you to make your changes by answering simple yes or no questions. Take the next step in performance tuning with the JET Performance Programmer!

-Add up to 130 horsepower and 205 ft/lbs of torque!*
-Tri-Power performance tuning modes for regular, midgrade or premium fuels
-Raise or lower top speed and rev limiter!
-Correct speedometer and turn off ABS light after making gear ratio or tire size changes
-Modify transmission shift points and shift firmness**
-Read and clear factory diagnostic trouble codes (turn off check engine light)
-Change electric fan turn on temperature
-Bypass computer aided gear selector in manual transmissions
-User friendly programming procedure
-Available for most GM gas and diesel applications

Programming options will vary depending on application.

LLY Performance Specifications:
Performance Towing Stage 1 adds 65hp 100ft lbs torque
Performance Towing Stage 2 adds 85hp 135ft lbs torque
Performance Towing Stage 3 adds 130hp 205ft lbs torque
LB7 Performance Specifications:
Performance Towing Stage 1 adds 55hp 90ft lbs torque
Performance Towing Stage 2 adds 75hp 130ft lbs torque
Performance Towing Stage 3 adds 95hp 160ft lbs torq

-The JET Programmer locks to your vehicle's VIN code and stores the factory program in it's memory so the vehicle can be returned to stock at any time. You can program your vehicle as many times as you want, but the programmer cannot be used on more than one vehicle.