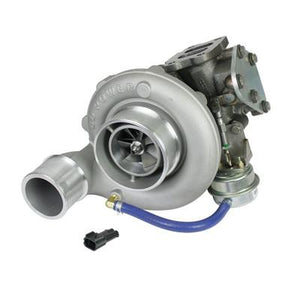 2003-2007 Dodge 5.9L Cummins BD-Power 1045131 Super "B" Special Turbo
The BD-Power 1045131 Super "B" Special Turbo for your 03-07 Dodge 5.9L Cummins was designed in a joint engineering effort between BD Diesel Performance and Borg Warner Turbo Systems AirWerks program, these new turbo systems for the 5.9 liter Cummins engine flow enough air for racing applications, yet are responsive and durable enough for street and heavy towing applications. Plus, they're backed by a one year factory warranty!*

Turbocharger lag is usually the result of an improperly matched turbocharger. As the compressor wheel size is increased to meet the airflow requirements of the engine, it gets heavier, which hurts response time. BD's turbo systems, using Borg Warners unique Extended Tip compressor wheel technology and low inertia, full-floating journal bearings, outperforms ball bearing turbochargers of a similar size.

Our unique dual-volute turbine housing picks up low rpm exhaust pulses for improved turbine response, while the dual-action waste gate bleeds off turbine drive pressure from both volutes. BD's turbo systems also feature a heavy-duty waste gate actuator that prevents pre-mature opening caused by high exhaust pressure. You can even fine-tune your BD/AirWerks turbo for ambient temperature and barametric pressure changes using BD's adjustable waste gate control.

Put simply, you'll get more power, quicker response, cooler EGT's and lower exhaust emissions with a BD/AirWerks turbocharger! And, you'll have the added benefit of proven journal bearing technology--the very same used in 99% of the turbochargers produced in the world since 1921.
SINGLE TURBO SYSTEMS
All of BD's single turbo systems are designed for easy, bolt-on replacement. This is a complete kit, not just a turbo but all the parts needed for installation. It has BD's adjustable waste gate and for some applications an exhaust adapter is included for stock exhaust mounting. If you want the turbo separately, just ask for it.
Super B Special:
The Super B Special bridges the performance gap between the Super B turbo and the Super B twin system. Flowing an amazing 80 lbs. of air per minute (compared to 61 lbs./minute for the Super B), the Super B Special is perfect for late-model Cummins common-rail or modified 12-valve engines and can deliver enough air for 550-625 rear wheel horsepower on diesel only. A bolt-in replacement for the stock turbo, the Super B Special kit includes all necessary adapters, spring-loaded T-bar clamps and turbo feed/drain fittings. kits
2003 and 04 Super B kits include an adapter so the turbo mount exhaust brake can bolt up; later models require a remote mount exhaust brake. 2003-04 Engines that have any more than a 100 hp increase will cause the stock turbo to over speed, surge and fail.
*This turbocharger is not compatible with an AFE Intake System without modification.
Due to clearance issues with the factory oil filter and intercooler pipe some larger air intake tubes will require modification. This issue can be resolved by simply clocking the intake tube or modifying the intake system.