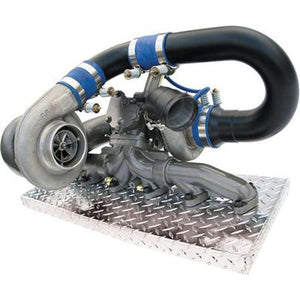 2003-2007 Dodge 5.9L Cummins BD-Power 1045330 Super "B" Twin Turbo Kit
The BD-Power 1045330 Super "B" Twin Turbo Kit for your 03-07 Dodge 5.9L Cummins was designed in a joint engineering effort between BD Diesel Performance and Borg Warner Turbo Systems AirWerks program, these new turbo systems for the 5.9 liter Cummins engine flow enough air for racing applications, yet are responsive and durable enough for street and heavy towing applications. Plus, they're backed by a one year factory warranty!

Turbocharger lag is usually the result of an improperly matched turbocharger. As the compressor wheel size is increased to meet the airflow requirements of the engine, it gets heavier, which hurts response time. BD's turbo systems, using Borg Warners unique Extended Tip compressor wheel technology and low inertia, full-floating journal bearings, outperforms ball bearing turbochargers of a similar size.

Our unique dual-volute turbine housing picks up low rpm exhaust pulses for improved turbine response, while the dual-action waste gate bleeds off turbine drive pressure from both volutes. BD's turbo systems also feature a heavy-duty waste gate actuator that prevents pre-mature opening caused by high exhaust pressure. You can even fine-tune your BD/AirWerks turbo for ambient temperature and barametric pressure changes using BD's adjustable waste gate control.

Put simply, you'll get more power, quicker response, cooler EGT's and lower exhaust emissions with a BD/AirWerks turbocharger! And, you'll have the added benefit of proven journal bearing technology--the very same used in 99% of the turbochargers produced in the world since 1921.
---
TWIN TURBO SYSTEMS

Super B Twin: Designed for high-powered 94-06 5.9 liter Cummins applications without cylinder head modifications, the Super B twin can easily flow enough air for up to 575 rwhp on diesel only. Add a BD Cool-It intercooler and a shot of nitrous oxide, and watch the power level climb to 800+! Great street and strip driveability, easy installation, and the factory oil coolers can be retained.
Features
Rated for 350-575HP

Tow twins flow 1190CFM

This kit contains everything to assemble the twins. 

High and low pressure turbo's

Exhaust Manifold and gaskets.

Cold air intake with washable filter.

All plumbing and hardware oil drains and return lines