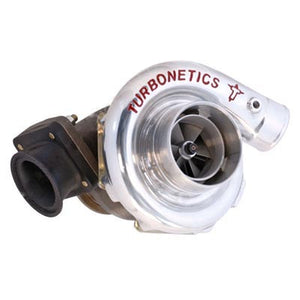 2003-2007 Ford 6.0L Powerstroke Turbonetics Torque-Master Turbo Upgrade #15180
This bolt-on turbo for the 6.0L comes as a complete, ready to install kit. Featuring our Ceramic Ball Bearings for durability and fast boost response, this turbo allows up to 500+ HP and 700ft./lbs. of torque.
 
Turbonetics Patented Ceramic Ball Bearing turbo provides both fast spool-up for quick acceleration and increased airflow to help keep EGTs down. Low exhaust gas temperatures (EGT's) are extremely important when towing. The turbo also has an exhaust housing engineered and sized specifically for the 6.0L powerplant for smooth power delivery throughout the entire rpm range, particularly off-idle, where reduction of unburned fuel (black smoke) is so critical. Offered with a high nickel cast steel adaptor flange so that the upgraded ball bearing turbocharger drops in directly in place of the factory unit, this turbo mounts neatly and securely on the factory exhaust manifold.

The Patented Ceramic Ball Bearing mentioned above has 50 times greater thrust capacity, quicker throttle response and are more resilient under high temperature shut-downs than conventional bronze thrust & journal bearing designs. Turbonetics is so confident in the design & construction quality that all of our products are backed with an unconditional one-year, No-Fault/No-Hassle Warranty on parts.

Unlike stock this is a fixed geometry turbocharger.

Custom tuning is required.






Torque-Master Ford 6.0L Turbo Features:



Turbonetics turbo upgrade routinely has 10 psi less back pressure compared to competitors units

Turbonetics turbocharger on average has exhaust gas temperatures 150º F lower than other makes.

Computer modeled wheel eliminates the surge and choke problems commonly found on both stock and competitors units.