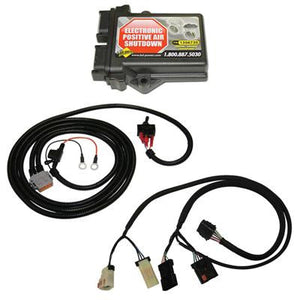 2007.5-2010 GM 6.6L Duramax LMM BD-Power 1036758 E-PAS Emergency Engine Shutdown
The BD-Power 1036758 E-PAS Emergency Engine Shutdown for your 2007.5-2010 GM 6.6L Duramax LMM is the perfect solution for when you need an emergency engine shutdown system. Some industries such as mining, oil refinery, forestry, mobile welding, septic removal and refueling require some vehicles to have an emergency engine shutdown in place. The most effective method for this is to cut the air supply to the Diesel engine ensuring fuel ignition to cease. BD-Power achieves this with the E-PAS without having to add additional bulky components or modifications to your engine or intake system.

The E-PAS is an electronic controller that simply re-purposes the factory butterfly valve in your EGR System. It installs easily with factory style plug-in connectors and will not interfere with normal operation, or throw any codes or check engine lights. Most importantly, it can be easily uninstalled for those that lease their truck.

Features:

Easy Installation


Uses Factory EGR Butterfly 

Automatically Resets After Shutdown 

Prevents "Runaway" Scenarios By Cutting Air Supply To Engine

Note: This product requires your factory EGR and emissions equipment to function properly. This product is not intended to be used on trucks which have been modified for off-road tuning.