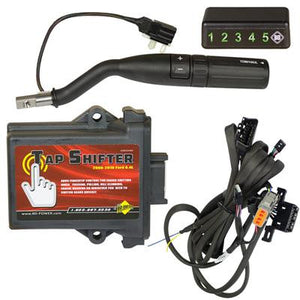 2008-2010 Ford 6.4L Powerstroke BD-Power 1031370 TapShifter
The BD-Power 1031370 TapShifter for your 2008-2010 Ford 6.4L Powerstroke is an excellent upgrade to help the functionality of your truck. While your Ford Super Duty has a 5-speed transmission, it doesn't offer you a complete range of gear selections. You only get P-R-N-D-3-2-1. The BD-Power TapShifter allows you to gain full control of the transmission in your truck with the supplied components. Using a high quality Ford OE shift lever, the BD-Power Tap Shifter kit enables you to control your transmission with just the push of a button.

Features:

Allows Transmission Control

Easy Installation - Mostly Plug & Play

Includes High Quality OE Ford Shift Lever


Control Lock-Up Clutch For Pulling Or Dyno Testing
NOTE:
  When in TapShifter mode, the BD module will override the transmission controller shift strategy so any aftermarket trans tuning will not be active with the Tap Shifter enabled.