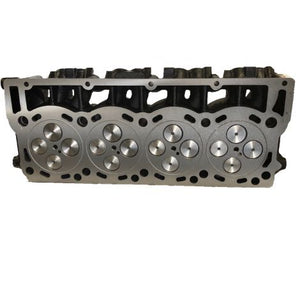 6.0 Mild to Wild Loaded Cyl. Head Kit Just Add Fluids
We now offer loaded cylinder head kits ready to bolt on to your 6.0 Powerstroke truck. Comes with everything you need to quickly and efficiently replace your cylinder heads. Just add fluids and you are good to go. This is the quickest way to add reliability and power to your truck with choices from Mild to Wild.
Just let us know if you need the 18MM Dowel kit or the 20MM dowel Kit.
Cylinder heads come with a 1 year guarantee!
This kit includes the following:
Your choice of cyl. Heads:
Loaded OEM, Loaded OEM O-Ringed, 100# Heavy Duty Valve Spring Loaded, 100# Heavy Duty Valve Spring Loaded O-Ringed
2 Cylinder Head Gaskets
2 Exhaust Manifold Gaskets
2 Manifold Bolt Kits
1 Oil Cooler with all gaskets needed
2 Rocker Housing Gaskets
1 Secondary fuel filter seal kit
4 fuel inlet copper washers
2 valve cover gaskets
8 injector seal kits
1 egr cooler intake gasket kit
1 egr valve O-ring kit
1 arp head stud kit
2 stand pipe and front port plug seal kits
1 front cover O-ring
1 turbo install kit
1 updated HPOP fitting
1 FPR blue spring kit