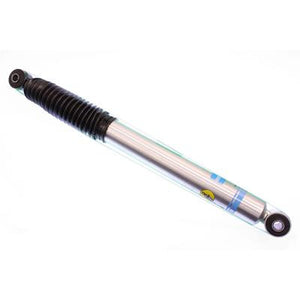 Bilstein 5100 Series Shock Absorber 24-062466
Part Number: 24-062466
Old Part Number: F4-BE5-6246-H6


Setting: 5100 Series
Drive Type: 4WD
Position: Rear
Descriptor: Rear Lifted Height: 2-4"
Quantity Needed Per Vehicle: 2



*Collapsed Length (IN): 20.28




*Extended Length (IN): 32.01


*Collapsed Length (MM): 515
*Extended Length (MM): 813
Finish: Zinc plated
Reservoir: No
Body Design: 46mm ID smooth body (Non-coilover)

Bilstein 5100 Series Shock Absorbers are high gas pressure monotube shocks designed specifically for lifted pickups, SUVs and Jeeps. The shocks feature a 46mm digressive piston with self-adjusting deflective disc valving. They offer super damping ability that makes them ideal for heavy hauling or occasional off-road use, while maintaining an exceptional street ride. (zinc-plated steel body, Triple-C-Technology coating)



*Lift Height is suggested by mfg. Due to the many different aftermarket suspension systems it is recommended that a measurement is taken for proper application.  An eye to eye shock is measured from the center of one eyelet to other.





Shock Absorbers sold individually.