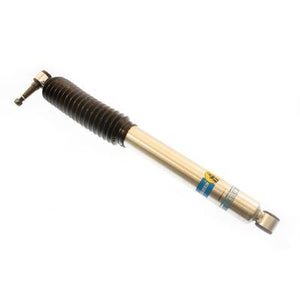 Bilstein 5100 Series Steering Damper 24-196284
Part Number: 24-196284



Setting: 5100 Series (Steering Damper)
Drive Type: 4WD
Position: Front
Quantity Per Vehicle: 1



*Collapsed Length (IN): 19.13




*Extended Length (IN): 27.44


*Collapsed Length (MM): 486.0
*Extended Length (MM): 697.0
Finish: Zinc plated
Reservoir: No
Body Design: 46mm ID smooth body (Non-coilover)

Bilstein 5100 Series Steering Dampers are designed specifically to help you maintain complete command of your truck, van or SUV at all times. A 5100 Series Steering Damper equipped vehicle offers a much more controlled feeling, allowing you to get the true feeling of your vehicle and what it is capable of. Utilizing our proven design, the steering damper is able to dampen minute movements in the steering and reduce steering vibrations that naturally occur especially in older vehicles. These dampers are the least expensive and most effective upgrade to extend the service life of any vehicle out on the road today.