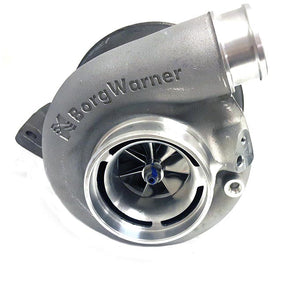 BorgWarner s369sxe turbo (80/73)
The Borg Warner SXE turbo line introduces the latest in turbo technology. With a new/redesigned compressor housing and a Forge Milled Compressor wheel (FMW), the SX-E turbos not only outflow their SX3/4 counterparts by a substantial amount, but they spool faster and come standard with a 360° thrust-bearing, allowing them to last longer and run higher power levels. Get the most out of your truck and ahead of the competition with a Borg Warner SX-E turbo.
With a max flow rate of 100lbs/min, the Borg Warner S369SX-E is capable of supporting over 800hp and happens to be one of our favorite turbos' and, in our opinion, one of the most versatile turbo's out there. Used as the primary (big/top) turbo, it can be compounded in conjunction with your trucks stock turbo or a small aftermarket one. It can also be used as the secondary (small/bottom) turbo in a compound set-up, working in conjunction with a very large aftermarket turbo if one is looking for absolute monster horsepower with relatively quick spooling. Lastly, utilized as a single turbo, it is perfect for someone who wants 600-800hp out of their truck without breaking the bank. Whether you want to finish the quarter mile in record time, make a full pull with a sled, or dominate the dyno, this turbo will help get you there.