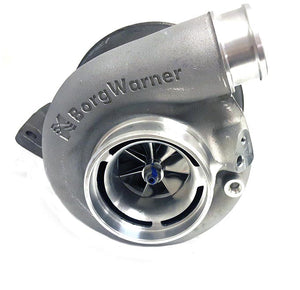 BorgWarner s467.7sx Turbo (83/74) 1.10 A/R
178855 - AKA S467 - AKA 9183 - AKA 67/73 - AKA 67-73 86lbs/min 850 horsepower
Compressor Specs:
 - Borg Warner Race Cover 5.5" Inlet 3"Hose Outlet compressor housing with port shroud map width enhancement.
 - 67.7mm inducer 91mm exducer FMW Billet compressor wheel with Extended Tips
 Turbine Specs:
- 74.3mm turbine wheel exducer, 83mm OD
- T4 Twin Scroll Turbine Housing 4" Half Marmon Outlet also known as a 4.625 OD Flat Flange in .90, 1.00, 1.10, and 1.25 A/R.  We can also machine an HX40 feature into the turbine housing.