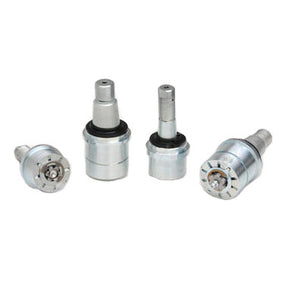 Dynatrac CR92-2X3050-A ProSteer Ball Joints
The Dynatrac CR92-2X3050-A ProSteer Ball Joints for your 03-12 Dodge Ram 2500/3500 4WD Pickup address the issues with factory ball joints that are subject to premature wear when used with heavy diesel engines, snow plows or large tire and wheel combinations. These Dynatrac Ball Joints provide higher strength, longer life and once installed can be rebuilt without special tools. This makes servicing the ball joints easy in the field or at home. Rebuilding the Dynatrac Ball Joints at home or at your local shop will cost less than having new OEM ball joints installed at an alignment shop or the dealer.
Sold as a complete kit with 2 upper and 2 lower.


Features:

High strength billet steel and heat treated bodies.

Super strong chromoly steel, heat-treated stems.

Effective seals prevent contamination and promote long ball joint life.

Fully greaseable on the truck.

Heat treated, precision ground stainless steel ball conforms to Military specifications.

Teflon coated internal wear points.

Fully-adjustable cup support protects against severe road impacts.

1 Year unlimited mileage warranty.
Note: The Dynatrac CR92-1X3050-B Installation Tool Kit is highly reccomended when installing Dynatrac CR92-2X3050-A ProSteer Ball Joints.