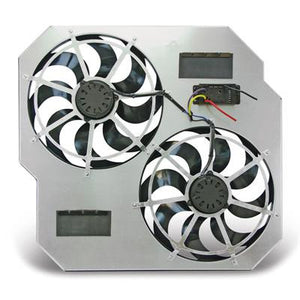 Flex-a-lite 264 Direct-Fit Dual Electric Cooling Fans
The Flex-a-lite 264 Direct-Fit Dual Electric Cooling Fans for your 2003-2009 Dodge 5.9L/6.7 Cummins provide you with a bolt-on cooling solution for your Cummins powered pickup. By replacing your stock clutch fan assembly with this dual electric fan system, you can increase your fuel economy by up to 6% and recover up to 27 HP! These cooling fans feature two 15-inch S-Blade electric fans and a Flex-a-lite adjustable temperature controller. These powerful fans move up to 5,500 cfm of airflow! These fans are best used in street or performance pickups that do not tow.

Also see the related products below for the Flex-a-lite 31143 Illuminated 3-Way Switch (sold separately) that gives you the option to override the fan controller by turn the fans off, or on at 100%.

Features:

Direct-Fit, Bolt-On Design

Up To 5,000 CFM Of Airflow

Quicker Engine Warm-Up

Product Specifications:
Height: 29"

Width: 27"

Depth: 4-1/4"
Air Flow: 5,500 CFM

Fan Diameter: Dual 15"

Number Of Blades: 8
Amperage Draw: 36
Fuse Rating (AMP): 50 Amp Circuit Breaker

Note:

The Flex-a-lite fans are not recommended for use on trucks that tow heavy or often. Disconnecting the factory fan clutch may set off a check engine light.