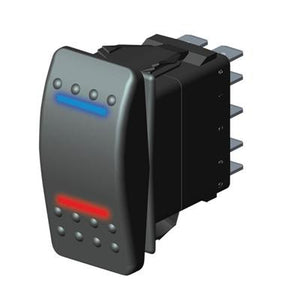 Flex-a-lite 31143 Illuminated 3-Way Switch
The Flex-a-lite 31143 Illuminated 3-Way Switch gives you the option to override the fan controller and adapt to the demands of your ride. One illuminated switch provides cockpit control for turning the fans on at 100-percent for tow mode, turning the fans off for water crossings, or allowing the controller to do its job.

Features:

Overrides Fan Controller

Allows You To Change On The Fly


Illuminated For Easy Viewing



Provides 3 Functions With 1 Switch:
When switched to Tow Mode the illumination is blue. The fans are activated at 100-percent power, regardless of coolant temperature. This can help better regulate temperatures when towing heavy-loads and extra cooling for steep hill climbs is desired.

In the neutral position there is no illumination and the fan controller will determine when the electric fans are needed. Fans will come on at the coolant temperature you determined or when the air conditioning is on.

In Water Crossing Mode the illumination is red. Fans are turned off, allowing you to cross deep water without damaging the fan blades or sucking up water. Water Crossing Mode can be used for any situations where you want the fans to remain off regardless of coolant temperature.