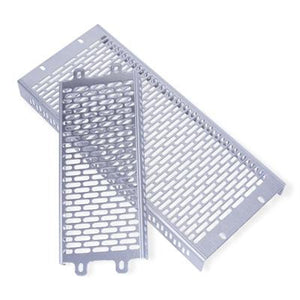 Flex-a-lite 4112G TransLife Oil Cooler Guard
The Flex-a-lite 4112G TransLife Oil Cooler Guard is made in the U.S.A formed and punched from 1/8-inch aluminum. They securely mount on Translife oil coolers using Flex-a-lite Gator Clips (hardware is included). The design allows airflow, but protects the cooler from larger items that could potentially damage it. The covers also adds a cool, performance appearance to the oil cooler. They can be painted black to hide the cooler from being seen through the grille. This part number fits the 5" x 15" Translife oil cooler #4112 (not included).

Features:

5" x 15" x 3/4"

1/8" Aluminum Construction

Includes (1) Single Cooler Guard

For Use With 4112 Translife Cooler (sold separately, see below)

Note: Image is for display purposes only. Only (1) Cooler Guard is included and needed per oil cooler.