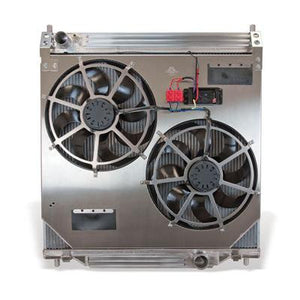 Flex-a-lite 59274 Direct-Fit Radiator w/ Electric Fans
The Flex-a-lite 59274 Direct-Fit Radiator and Cooling Fan Combo is sure to keep your 03-07 Ford 6.0L Powerstroke cool under all conditions. This no-drill, bolt-in radiator includes mounting brackets and all hardware for installation. Featuring patented Flex-a-lite sidetank tank technology, the "T" channels offer 130 percent better heat transfer, a durable mounting system for the radiator, electric fan and optional oil cooler or expansion tank. The dual 1-inch all-aluminum radiator core is hand welded in the U.S. to the Flex-a-fit sidetanks. This radiator comes with a Flex-a-lite dual electric fan system with Variable Speed Controller and clutch fan emulator.

Features:

Dual Electric Fans

2-Row, 1-Inch Tubes

Up To 6,800 CFM Of Airflow


Increases Coolant Core Capacity by 16%

Eliminates More Than 20 Pounds From Engine

Requires 41124RV Transmission Cooler (Automatic Trans. Models)

Auto Trans. Note: This radiator removes the factory automatic transmission cooler. The Flex-a-lite 41124RV Translife Transmission Oil Cooler must be also be installed to retain cooling capabilities. (sold separately)
Note: The Flex-a-lite fans are not recommended for use on trucks that tow heavy or often.