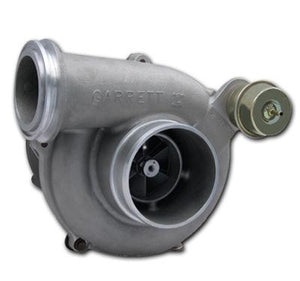 Garrett 739619-5004S PowerMax GTP38R Ball Bearing Turbocharger
The Garrett 739619-5004S PowerMax GTP38R Turbocharger is a must have for any 99.5-03 7.3L Powerstroke owner that wants to get more out of their truck. Built with the Garrett exclusive Ball Bearing Cartridge, the GTP38R provides unbeatable response, efficiency and durability especially at elevated boost levels. As a "drop-in" replacement, this turbocharger mounts to the factory pedestal and retains the use of OE intake and exhaust systems.

The GTP38R PowerMax features an 88mm compressor wheel that provides 35% more flow than the 80mm wheel found on your stock turbo. Also included is a ported shroud housing that improves compressor flow range and surge control. The included 1.00 A/R housing allows for free flowing exhaust with reduced back pressure and can even reduce exhaust gas temperatures up to 200 degrees.

While this turbocharger is suitable as a replacement for factory equipment, it is recommended that additional fueling upgrades such as aftermarket tuning or injectors are installed or already in use. Includes turbo, 4" inlet hose, band clamp, oil inlet o-ring, oil outlet o-ring, & installation instructions. Fits F-250/350 & Excursion.

 Features:

"Drop-In" Replacement

Max Recommended Boost: 40 PSI

88mm Comp. Wheel


1.00 A/R Turbine Housing
Note from Garrett regarding shaft play:
When the Powermax turbo is new, or has not operated for a long period of time allowing most of the oil to drain out, the rotating assembly will move more in the radial direction because there is no oil in the center housing. This condition is normal. As long as the shaft wheel spins freely and the wheels don't contact their respective housings, the assembly will function properly.