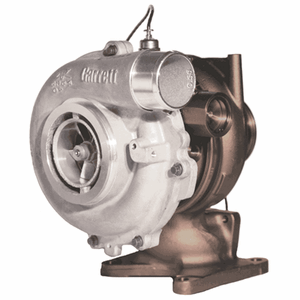 Garrett 773540-5001S PowerMax GT3794VA Stage 1 AVNT Turbocharger
The Garrett 773540-5001S PowerMax GT3794VA Stage 1 Turbocharger is a must have for any 04.5-09 GM 6.6L Duramax LLY/LBZ/LMM Duramax owner that's looking to get more out of their truck. Featuring the Garrett patented Advanced Variable Nozzle Turbine (AVNT) design for increased compressor flow and boost response. The
GT3794VA

also utilizes nine movable vanes which significantly increase turbine efficiency and improves engine performance from idle launch through peak torque.

Designed as a "drop-in upgrade", the
GT3794VA

retains use of factory components such as engine electronics, mounting pedestal and requires no additional modifications to your factory exhaust system. Utilizing a larger compressor wheel the
GT3794VA

turbocharger will increase your maximum power range while supporting up to 500HP with no sacrifice to drivability.

While this turbocharger is suitable as a replacement for factory equipment, it's recommended that additional fueling upgrades such as aftermarket/custom tuning are installed or already in use. Includes turbocharger, adapter cable and installation instructions.

Features:

Retains Factory Electronics


"Drop-In Replacement"

Supports Up To 500HP
Note from Garrett regarding shaft play:

When the Powermax turbo is new, or has not operated for a long period of time allowing most of the oil to drain out, the rotating assembly will move more in the radial direction because there is no oil in the center housing. This condition is normal. As long as the shaft wheel spins freely and the wheels don't contact their respective housings, the assembly will function properly.